it seems to me this blog is as a notebook to note highlights from the memory lane that seems to me as worthwhile to share with fellow humans in similar creations ...
2 pin points here in the title ...
HolMes
was a link through by TMQ ...
"She" inspires my debug talents on numeric vibrations from that inspected word - here HOLMES:
"The letters of Holmes add up to 72"
...
I often use the bivid-decodex AM-ZN-1-13 converter for a vowed number as densed spark.
HOLMES : 8 12 12 13 5 8 => 45+13 => 58 (last to numbers in itself)
A Great Ping Code while 45 = 0123456789 summed ; 58 = +/- 3 / 13 / 40
And 58 is 13 again ; in Tzolkin its Kin058 is a MIRROR ... RHYTHMIC and Galactic activation Portal
Then on HOL-MES the bext spark shines the meaning that HOL=HOLzLAND=HOLLAND=the Netherlends ... key courty for the planetary communication where it as a its free will - out of dominant control sectors - who are out since the the obamarama rise ...
MES is dutch for KNIVE : sing Satchmo's Mack the Knive again?
Did you like that? I do ... ;-))
On topic we refer to the mayan calender as a frequency adjusting tool where KNIFE is pointing at a specific DEAL ... which is ETZNAB => MIRROR
So Holland, the dutch people living in and all associated by some means to the communication theme on the planet is - since Holmes - experiencing the MIRROR and its effective outcome : ORDERING ... but then ORDERING WHAT dear mr. and mrs. DreamWatcher?
Catching the DREAM? is what my mate dogoning does ... here.
And he is guided by a guy named Fred too, there.
~~~
Great Ping Daya is about a trigger put on that UCS forum lately ...
What was its date/seal?
here it is ...
and its imaginary "buzzyness":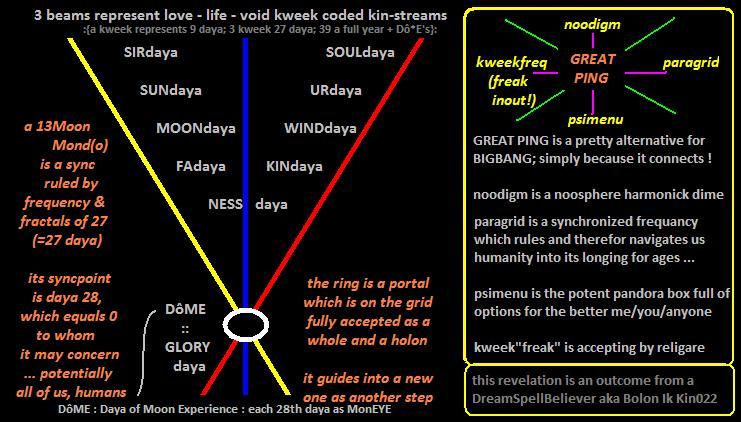 ~~~
enoguh said here ... gooddaya ; it is 1.4.2.1 Sìrdaya in Lifekweek ...
it has the fingear at the switch
where iching 21 flipped into 29 ...
XÍ KĂN ~ The teachings of danger
I like this word Tea Ching in the I/eye Ching ...
seems to merge worlds that were seperated for so long ...
As XI KAN does: XI is as CHI and also complement toward IX - the mayan wizard => wizz'art
KAN is as SEED - refer to the masculine power spiced in DreamSpell: Self-Existing SEED
~~~
Finally here it is interesting to see
how MIRROR is the GUIDE of the day -nov24/2009-
in DREAMSPELL to the Electric Wizard - tone tree - in Magnetic Human Wave ... Crusial anchors are also Serpent at the Analogue Side; Seed as the Antipode and Hand Occult (dec21, 2012 LightHouse)
this about the moment that liberates some notions ...
S'ace ~ BI~video launched by many fellow humans in their talent relating to "maya"